A Living Legend (now Deceased)
Carroll Shelby was born in Leesburg, Texas, a town of 150 people, on January 11, 1923.
When he was young, Carroll had health problems. He had a heart valve leakage problem at age 7, and spent most of his childhood until age 14 in bed. At 14 he was declared to have "Outgrown it".
In his youth, Carroll rode with his dad while he was delivering mail in a 1928 Whippet. His dad drove fast between mail stops and Carroll used to urge him on with "faster dad, faster".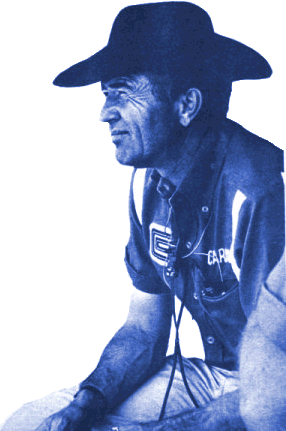 The Whippet had a top speed of about 65 mph, and that's what they drove from Leesburg to Dallas in 1929. They passed everybody on the road.
In 1938, Carroll got a Willys. In this car, he raced everybody he could. One of his favorite spots to drive was the Rail Road yard where he would jump a crossing hump at about 70 mph. He was caught by the police during one of his Rail Road yard driving excursions and remanded to the custody of his father. His punishment was loss of his driving privileges for 6 months, a fate that we are all sure was very difficult for Carroll to handle.
In 1941, Carroll joined the Army Air Corps. At this time, he was 5 ft 2 and weighed only 100 pounds. To get in, he ate 12 bananas to weigh enough to meet the minimum physical requirements. As we all know, he's over 6 feet tall now and would have no difficulty meeting minimum weight.
In the Air Corp, he first flew twin engine trainers and then moved on to test piloting other planes. Always ready for additional training and seat time, he was known to take a plane out on Sunday and buzz local herds of antelopes. During his Air Corp career, he lost two planes. One caught fire and the other he was forced to belly land. He was never injured.
He married a school mate, Jeanne Fields. They had three chiidren, Sharon, Michael and Patrick, born in the mid to late 40's (they are about the same age as some of us).
After leaving the Air Force, Carroll experimented with a few other livelihoods including rough necking in the oil fields, ready-mix concrete and chicken ranching. Each of these efforts were fairly short lived; he didn't like working in the oil fields, he stopped the concrete business when he started the chicken ranch and the chicken ranch was finished when he lost 40,000 of his 70,000 chickens in just 3 days. (Newcastle Disease, ed.)
In 1952, he first tried what became his main interest in life - road racing - when a friend let Carroll drive his MG to a track in Norman, Oklahoma. They drove the MG to the race course and then on to victory in the race - A career was launched.
In 1954, Carroll won several Sports Car Club of America (SCCA) races. As a result, he was chosen to be part of the AMERICAN race team to compete against the Argentineans. Carroll Shelby drove a Cadillac powered Allard in this event. The combination of an American V8 in a sports car proved to be very much to Carroll's liking. He drove very well and won the event. He so impressed the Aston Martin factory team (at that time Aston Martin was one of the fastest and most successful sports cars in the world), they made him the offer to become a driver on their factory race team.
Carroll drove very well for the Aston Martin team, but John Wyer saw some "rough edges" which he sought to smooth out. He taught Carroll to drive more smoothly and that "no wild, crazy-driving fool gets to the top". Both the concept of a Cadillac Allard and John Wyer were to play a significant role in Carroll's later career.
Carroll was quoted in a 1957 Sports Illustrated article; "You know, when I'm driving a racing car I feel that I don't have a problem in the world. I haven't even tried to analyze why I do it. I guess there is just something there - a certain challenge".
That "certain challenge" led Carroll Shelby to completely blitz the 1957 SCCA season winning 40 races and losing only 6, an incredible 87% win ratio. In a 1957 interview he said about racing "when it stops being fun, I'm going to get out of it". It evidently has not stopped being fun yet, because he is still deeply involved in racing today.
What was not revealed in the 1957 interview was that Carroll had been driving with nitroglycerin tablets under his tongue to keep the angina pain under control. His heart problems persisted which led to his giving up driving in competition after 1961. It is obvious to all of us, that his love of racing did not wane when he stopped driving. Carroll Shelby knew how to drive cars, how to make them fast and reliable, and how to make them win. He merely redirected his energy from his extremely successful driving career to most ALL other fields related to racing.
After 1961, he became the western distributor for Goodyear racing tires, he was a contributing editor for Sports Car Graphic magazine and he ran his high performance driving school at Riverside Raceway in California.
Most of all, Carroll wanted to build his own sports car, a production American sports car. It had to be fast, fast enough to be THE fastest sports car, and fast enough to beat the Ferrari. His plan was to use a high performance American motor and marry it with a good handling British sports car, the same concept as the Cadillac Allard which he drove to win the Argentinean challenge.
Carroll learned that AC Motor Cars, Limited of England was losing their engine supplier. Here was the car for his sports car project, now he needed an engine. He talked to Chevrolet, and Chevrolet was not interested because Chevrolet already had the Corvette and didn't want any competition. Carroll then talked with Ford which was in process of building a new family of small block V8's. Carroll Shelby was very persistent and eventually got a Ford rep to send him a pair of engines for "developmental purposes". The rest is, obviously HISTORY. Shelby American completed the first car in 1961 and tested it at Silverstone race track in England. On it's first track experience, it ran a previously unheard of 150 mph on the straight.
Carroll immediately had the car shipped back to California where he began his effort of convincing Ford to back the project for more than a couple of engines. The effort began with convincing Dave Evens, a Ford rep, to look at the car and at the Silverstone test films. Dave agreed this was a good project, and the first letter of agreement was signed in Feb. 1962. Part of the agreement called for putting the first prototype in the New York auto show. One night, Carroll dreamed of the car and in the dream the name COBRA came to him.
He painted the prototype yellow, put the name Cobra on it, and got it to the New York auto show on time. The car was an instant success. Carroll Shelby had done what no one in contemporary history had done. He had built his own racing sports car. This was not just any sports car, but it became the worlds fastest production sports car. The Cobra dominated the SCCA A production class for years. Though the newest COBRA is over 30 years old, it is still among the fastest production cars in the world.
Never being a complacent person, Carroll Shelby continued his winning ways by producing another champion. The GT350 was a production Mustang based car which was first introduced in 1965. This car won the B production championship in it's first year, and then won the championship again in 1966. Carroll Shelby had continued his success with yet another sports car. No man has done more for the production muscle car of the 60's than Carroll Shelby, BUT Carroll was no where near done producing champions yet !!!!
Carroll joined forces with John Wyer and began the project with which Carroll Shelby's name is synonymous, the GT40. This Ford powered vehicle was built with the express purpose of beating Ferrari at LeMans. One year after the introduction of the GT40 to the racing world, the Ford GT40's finished LeMans 1st, 2nd and 3rd for one of the most remarkable racing feats in all of racing history.
Carroll Shelby ended his affiliation with Ford Motor Company in about 1970, approximately concurrent with Lee Iacocca leaving Ford. He began his affiliation with the Chrysler Corporation in the early 80's. Between major auto manufacturers, he started an incredibly successful chili company, which he has sold for "an indecent amount of money, so much that I can take on any sumbitch that tries to make a profit copying the cars ...(the Cobra) and passing them off as the real thing". Clearly, his passion for the automotive racing world has not waned.
In 1990, he was seriously ill. His heart was simply worn out. In 1991, with very little time left before his heart stopped working completely, he had a successful heart transplant. His heart transplant was so successful, that he drove the pace car at Indianapolis in 1991. The pace car was the Dodge Viper, a project with which Carroll Shelby was affiliated. The Viper has a V10 engine, is very fast, stops and handles well. It shares more similarities with the original Cobra than just the species relationship of the name, it also, is the brain child of Carroll Shelby. He also received a new kidney (from his son, Michael) in 1996 and is in good health today.
COBRA, GT350, FORD GT40, DAYTONA COUPE, as well as GT5OO's, BOSS Mustangs, Mangustas, Panteras, Sunbeam Tigers, and Trans-Am Mustangs: These are all cars which benefited from direct involvement by Carroll Shelby. These are cars that helped redefine the term performance automobile.
Thank you Carroll
Sources,

Sports Illustrated, March 25, 1957
Carroll Shelby, the Gentle Leadfoot,
Kenneth Rudeen

Shelby American Guide, Second Edition;
Richard Kopec, 1982

Carroll Shelby's RACING COBRA,
Dave Friedman and John Christy, 1990