COBRA - The Legendary Automobile
by Dean V. Ricci
In the late 1940's, the term "sports car" was something reserved only to automobile manufacturers outside of the United States, primarily the British manufacturers. Their idea of a two seater "personal car" hadn't quite caught on in America at all. Their motorsports events of the time such as the road racing series known today as Formula One and of course the 24 hours of Le Mans in France were events limited to participation by and for the European population. Here in America, the Post World War era saw the mass production of vehicles geared towards the returning Gls and their families. Auto manufacturers had no interest or need to provide cars of a more sporty nature until much later in the game.
However, here in America auto racing was something that had really begun to blossom, Along about this time some fifty years ago, a fledgling organization known as the Sports Car Club of America was created to provide an organized body to regulate sports car racing in the United States, just as the F.I.A. was created as the governing body in Europe. The SCCA in years to come would benefit greatly in exposure and popularity due to the efforts of a tall lanky fellow from Texas, named Carroll Shelby.
Carroll Shelby was one of the early auto racing pioneers. He competed in many sports car racing events in various makes of European sports racing cars. Carroll won many of these races and eventually caught the eye of European "works" teams that were in the States, looking for good drivers to compete in their cars in Europe. Carroll Shelby drove for several teams in Europe, two of which were Maserati and ultimately teamed up with Phil Hill at Ferrari. Carroll not only made a name for himself by his winning ways, but for his trademark driving suit which consisted of blue and white striped bib overalls and a matching locomotive engineers cap.
Carroll Shelby's racing career, however, had to come to an untimely halt. Unfortunately Carroll was born with a defect in his heart. His heart condition was taking a noticeable toll on him and he eventually took the advice of doctors and retired from motor racing.
In returning to America, back to his home state of Texas, he had to find a new career for himself, so he purchased land and began chicken ranching. This was a profession he knew a lot about, having grown up in Texas farm country, but it was not a long lived career for Carroll. His entire chicken ranching business was wiped out when the chickens fell prey to a disease known as limber-neck. With his brief foray into farming ending in disaster, Carroll came up with a plan to get back into the car business which he really loved. He knew that he couldn't return to racing as a driver, but he had an idea to build his own car. This car was to have what Carroll thought to be the best of both worlds, a British sports car with an American made engine.
Carroll sought out this dream by looking up his old racing contacts over in England. The company that he eventually struck a deal with was A.C. Cars Ltd. This manufacturer had a rather large contract with the English Government to build transport vehicles for the disabled. In addition to that, they were already in production with a car known as the A.C. Bristol. It was the two seater, long hood - Short deck sports car that Carroll had in mind all along. Next was to find the right power plant.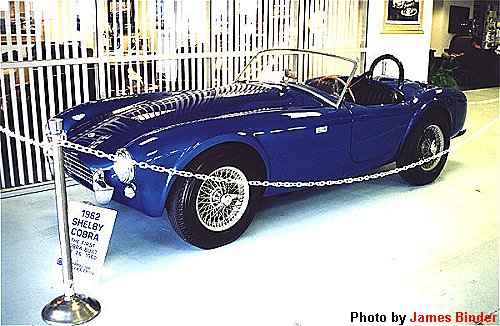 The Shelby Cobra, powered by the Ford 260 c.i.d. V8
Oddly enough, Carroll, impressed with the Chevrolet Corvette, originally approached Chevrolet with the idea of an American engined British sports car. Carroll even had the father of the Corvette, Zora Arkus-Duntov, on his side. But in the end of the negotiations, Chevrolet decided that Corvette was king and it didn't need to build a second one with someone else's body. This of course was a decision that would ultimately ruin the ability for the Corvette to gain any kind of prominence in Sports Car racing in this country.
Having failed with Chevrolet, he turned to the Ford Motor Company in Dearborn, Michigan. There he was introduced to a new marketing wizard by the name of Lee lacocca. Lee was soon to he known in the automotive world as the father of the soon to be introduced Ford Mustang. This car, the Mustang would also benefit from Carroll Shelby in its near future, but that's a story in itself !
After listening to Carroll Shelby's sales pitch about building this British American car, lacocca's final reaction to Shelby's persona was to open the door to his office and shout out to his co-workers; "Somebody give this guy a check for $25,000 before he bites somebody!" And with that the legend was born.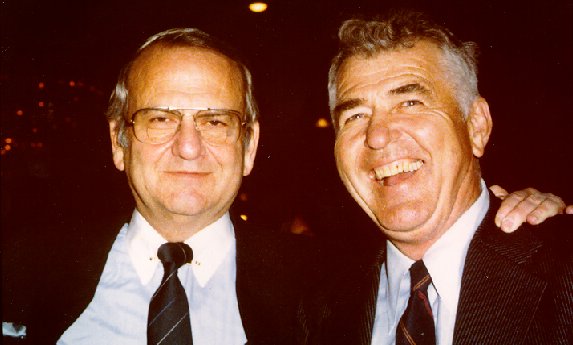 Good friends, Lee Iaccoca and Carroll Shelby
Carroll Shelby's company "Shelby American" was soon formed and took up residence in Venice, California. Carroll chose Venice over his Texas home because he wanted to get the California hot rodders together with California road racers. The company took delivery of the first A.C. Bristol car that would be extensively modified to accept the new Ford 260 c.i.d. V8 powerplant..
Now enters Pete Brock, chief designer for Shelby American. Pete came from a designing background for the General Motors Corporation, and used the skills he learned there, particulariy the clay modeling techniques prior to initial prototyping. Once the actual car was created, it was given the name the "AC-Cobra", a name obviously inspired from Carroll's Texas roots. Now that the car was together, they had to shake it down to see how it would perform. Thus begins the legend of Ken Miles. Miles, a British expatriate would come to be the single most significant piece of the Cobra engineering puzzle. His driving skills were impeccable, and his engineering training made it easy to translate the feel of the car into how the suspension and powertrain should work.
With the first car completed, it was introduced to the press and eventually it was introduced to American road racing. The early Cobras earned success at many SCCA events in the southwestern United States. Word soon spread of the speed of the little British American car, and the car was beginning to be campaigned by independent racers as well as the Shelby American team.
Beginning in 1964, Shelby American produced Cobra race cars built to F.I.A. (the Federation International du Automobile) specifications in order to compete in the World Championship. Not only did the Cobras compete, they dominated just about every race they competed in (with Chevrolet's Corvette showing up quite often in the Cobra's rear view mirror).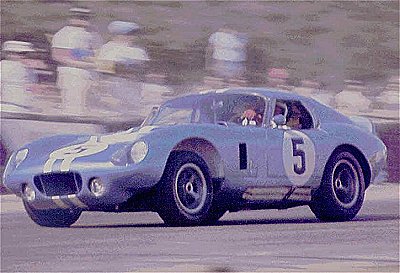 In addition to the open roadster Cobra, for the 1965 racing season, Pete Brock designed an enclosed cam-back version of the car known as the Cobra Daytona Coupe. This car was so named because it made it's debut at the 24 hours of Daytona that year. This car also traveled to Le Mans France for the 24 hours of endurance. The cars of Shelby American raced into the record books capturing the F.I.A. World Sports Car Championship Title that year. Shelby American was the first and ONLY American manufacturer to hold this title. No other American manufacturer to this day has ever duplicated this achievement!
During the 1965 Championship season, Shelby American was more involved with Ford and their racing program than ever before.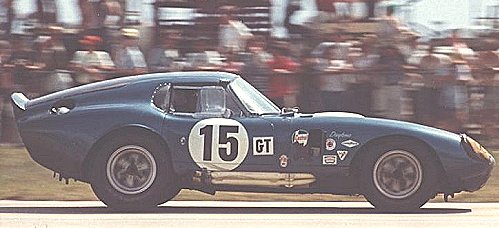 They had since left their tiny offices in Venice, California and moved out to hangar space at the Los Angeles International Airport. Shelby American had been commissioned by Ford to take their new Mustang under its wing and make it into a dominant force on the race track.
Shelby American delivered the Shelby GT350 and it captured the B/Production championship in the United States Road Racing Championship, sanctioned by the SCCA.
Mustangs continued their winning ways under Shelby American by capturing titles in the new SCCA Trans-Am series in both 1966 and 1967. Shelby American continued to build the Cobra up until 1967. The car set so many records in its brief life that there is little belief a single vehicle will ever again make such an impression upon the automobile industry and enthusiasts around the world. Shelby American's Cobra still holds the production car record for zero to 100 mph performance in just over 4 seconds. In complete race trim, including the big 427 side oiler V8, the Cobra was the most dominant road racing machine of its day.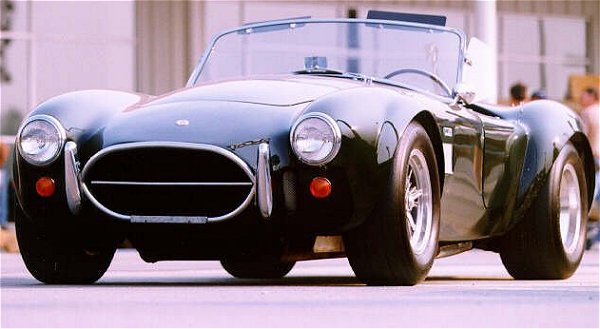 Paul Rebman's 427 Cobra (photo by John Moore)
Today, the staying power of the Cobra is unmatched. There has never been a car such as this, that is so well represented today in kit form by many highly skilled crafters. It's no wonder that when Lee lacocca left Ford Motor Company and settled in at Chrysler, he called upon Carroll Shelby to once again work his magic. This time the body was crafted in America, but the powerplant; a V10, was crafted by Chrysler subsidiary Lamborgini in Italy. So today, the Viper from Chrysler is a testament to the efforts of Carroll Shelby some 40 years ago.
Quite a testament indeed.