1967 GT500 Shelby Mustang 427 Shelby "Super Snake" VIN# 67402F4A00544 - 1 of 1 built.
26,304 miles at time of photography.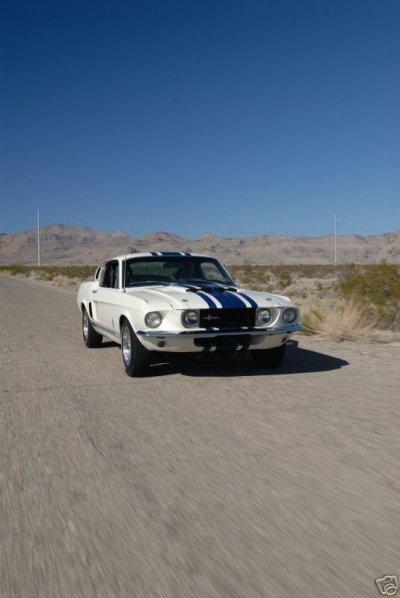 Up for auction on Ebay in 2007 - auction ended with bid price ending at $169.100.00 U.S.
World's Only 1967 GT500 Super Snake Could Be Yours... For $3 Million
With all this Barrett-Jackson brouhaha around, we must not forget that there are other places to spend torrents of money on a vintage car. Say, on eBay Motors, where $3,000,000 will buy you the only GT500 Super Snake that Carroll Shelby ever made. You get the 520-horse 427, the rights to the SuperSnake.org website, and about a million tons of history with the deal. But still, we can't help wondering how many Omni GLHSs you could buy with 3 megabucks and still have enough left over for a mansion and a couple of Zimmer Golden Spirits- probably all of them!
A Special model built at Shelby American for Mel Burns Ford. Intended to be the first of 50 but no other Super Snake was built due to the retail price of $7,500 and a 427 Cobra could be bought for roughly the same amount.
Driven by Carroll Shelby at the Goodyear test track in Texas for "Goodyear Thunderbolt" tire promotion film production. Carroll recorded lap speeds over 150 mph and top speed of 170 mph!
The Snake has been carefully detailed and would do great in any show but its uniqueness will always set it apart no matter were it goes.
Appeared on "My Classic Car" 1/21/96. Listed in the Shelby American World Registry-1997 and the subject of many magazine articles.