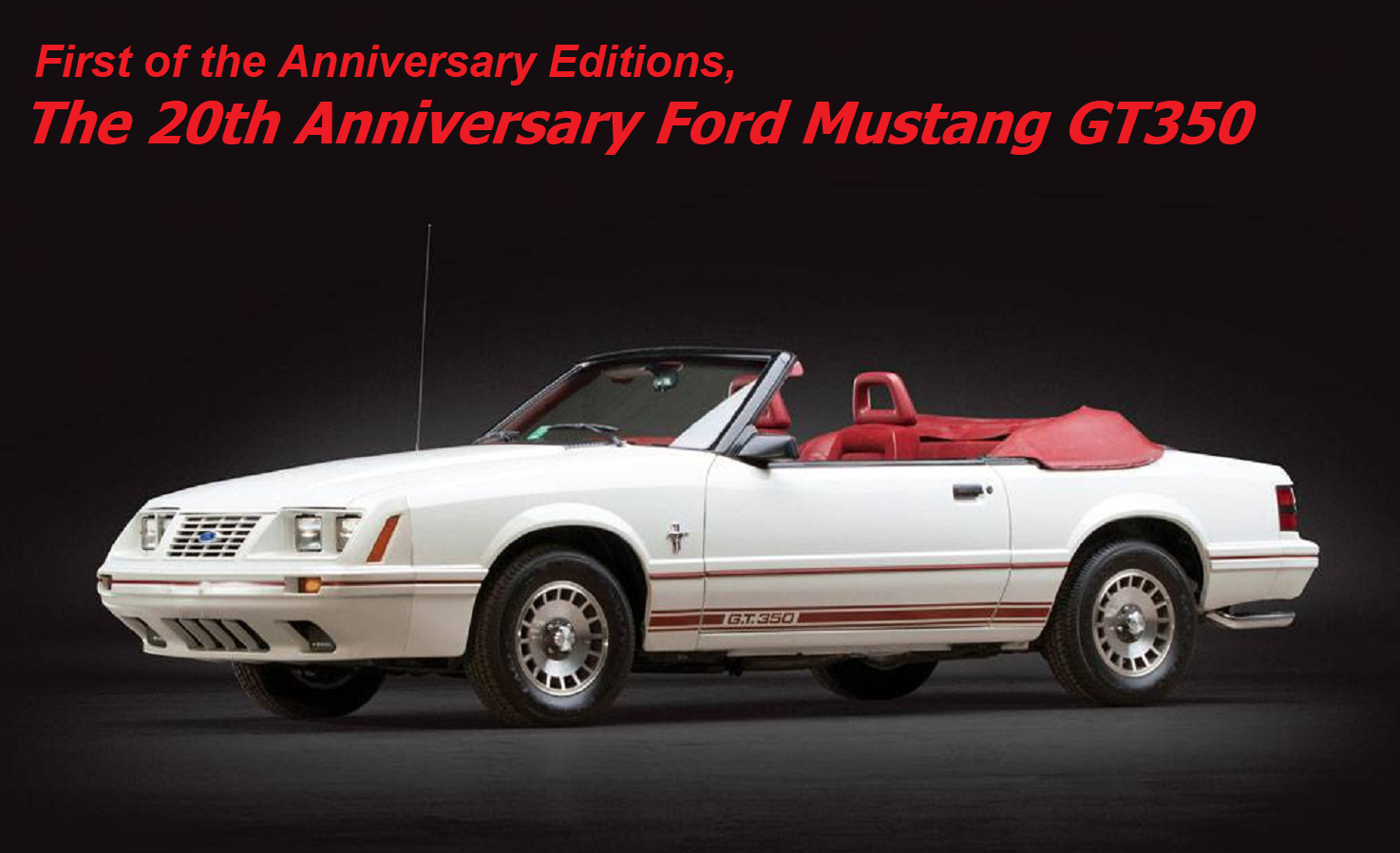 Ford celebrated the 20th anniversary of its iconic pony car by bringing back the GT350 name, which had been absent from its stable since 1970. Reaction among hardcore Mustang fans, however, was decidedly mixed.

Available as a hatchback or convertible, the all-white GT350 was limited to a 35-day production run, producing 5,261 cars that were sold to the public in the spring of 1984. Despite the name, the GT350 was produced entirely by Ford without the participation of Carroll Shelby or Shelby American.
Click on an image below to enlarge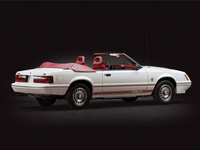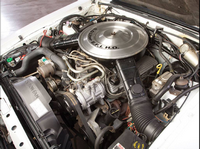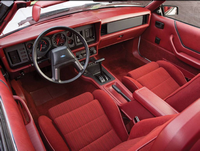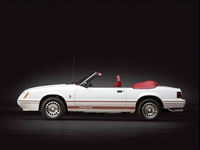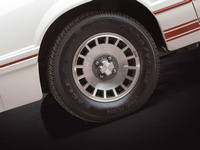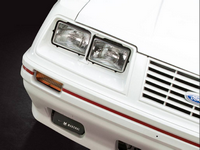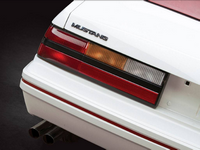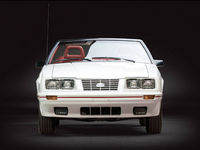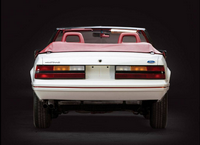 20th Anniversary GT350 Mustang Specifications

The 20th Anniversary GT350 Mustang was not as well-received as its namesake due to fact that it only contained cosmetic upgrades. In addition to the distinctive Oxford White paint job, the GT350 featured a dark red interior, fog lights, special badging and bumper striping, as well as a front air dam. The only significant performance upgrade was the TRX handling package, which further refined the GT's stock suspension.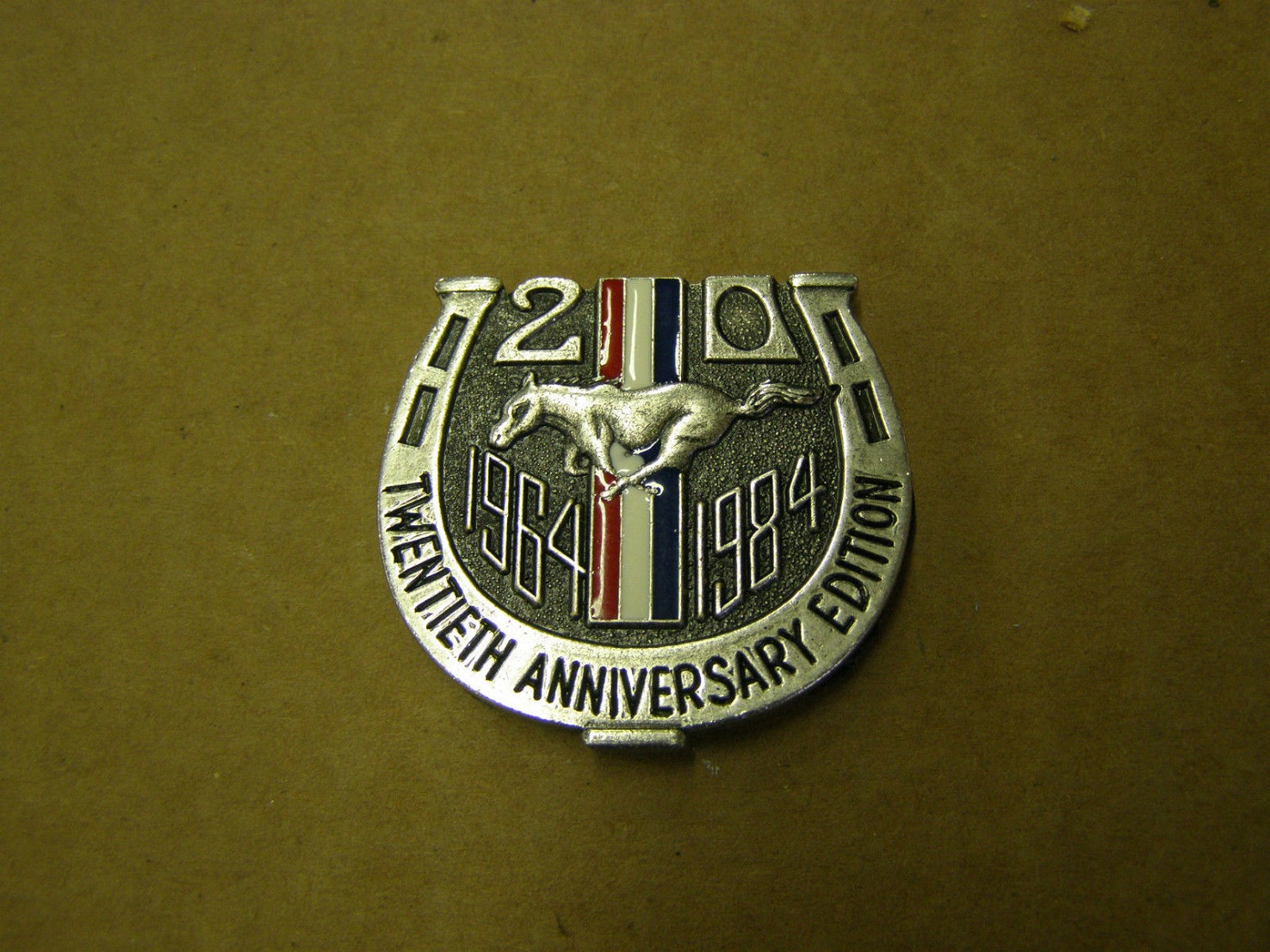 Every 20th Anniversary Mustang owner received this medallion for their vehicle after purchase. Each owner also received an Owner's Plaque with their name and sequence number of the build of the car engraved upon it. Sadly, no records of the sequence numbers were kept for future reference
Engines

The GT350 20th anniversary package was available with either a V8 or a 2.3L four-cylinder engine. Two V8s were available to match the choice of transmission — when paired with an automatic overdrive gearbox, the GT350 received a fuel-injected 165 horsepower 5.0L V8. With a five-speed Borg Warner T5 transmission, a carbureted 5.0 was used, delivering an extra 10 horses.

Relationship to Past and Future GT350s

While the 20th Anniversary GT350 is not without its own merits, when considered next to past and future bearers of the GT350 title, it's easy to see why the 1984 model does not have the same high profile. The original GT350, first released in 1965, was built specifically for performance on the track and featured a modified engine producing over 300 horsepower. The GT350 name was revived again in 2011, this time by Shelby American. I was equipped with a supercharged 5.0L V8 capable of going from zero to 60 in just 3.7 seconds.

Despite the more impressive features of other GT350-badged Mustangs, the 20th Anniversary model still has many admirers today. Feel free to visit the official website at: http://www.20thanniversarymustang.com/. You can also visit the GT350 group at: