GT 350 Production Numbers: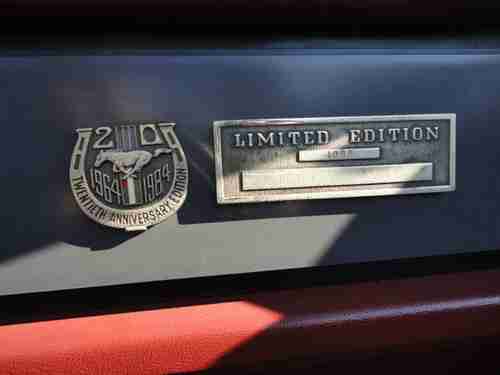 This is a breakdown of the total production run of 5,261 -- 1984 model year 20th Anniversary G.T. 350 Mustangs produced.
Production of the Anniversary Mustangs began in March of 1984 (hence the '84½ designation) and continued in batches until 5,245 cars were completed in April, 1984.
At the request of several Ford executives, an additional 15 cars were put together in May, 1984 with one final convertible being built in June, 1984.
Total Anniversary Mustangs built: 5,261

2.3L Manual Trans .......... 466 of which 104 were convertibles
5.0L Manual Trans .......... 3,191 of which 587 were convertibles
5.0L Automatic Trans .... 1,603 of which 669 were convertibles


Buttons that were made up to commemorate
the 20th Anniversary Celebration of the Mustang

Flyers that were distributed telling about
the Party to be held